My new Comedy Show, '1 Liner' was first performed in the 2014 Sydney Fringe.
Sean Morahan – 1 Liner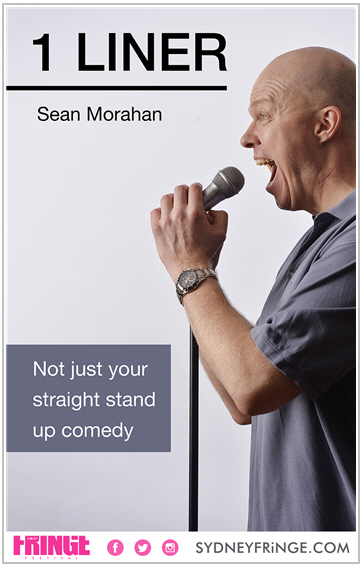 "They said I was a one-liner comedian and couldn't be a storyteller comedian. Tonight I prove them wrong. Once upon a time there was a comedian who told the following one-liners…."
In writing my new comedy show '1 Liner', I took Charlie Chaplin's idea that comedy is two opposite ideas that collide. Then I wrote a new idea that comedy is not two opposite ideas that collide. Then I collided those two ideas! What a mess!
Then I took the idea that one-liners make good comedy and the idea that storytelling makes good comedy. I put those two ideas in a Hadron Collider (don't ask – I just know people, OK?) and let particle physics work its catastrophic magic.
An intelligent audience shouldn't have to choose between storytelling comedy and one-liner comedy. Have both!
1 Liner: Performances:
The Hive Bar, 93 Erskineville Road, Erskineville  (licensed premises, over 18s only)
Friday, 12th September, 2014          7.15 pm  SOLD OUT
Tuesday, 23rd September, 2014      9.00 pm
Friday, 26th September, 2014          7.15 pm  SOLD OUT
.
Tickets:

My comedy colleague CJ Delling's Comedy Show is called 'Reality Bandit'…

CJ Delling – Reality Bandit

Following her successful and critically acclaimed run at the Adelaide Fringe and Melbourne International Comedy Festival earlier this year, German-born and Sydney-dwelling CJ now brings her latest stand-up comedy show to Sydney.
If you are looking for a show you could take your mum, first date or dentist to, then look no further than this cheerful and quirky expedition into our relationship with reality, truth, biases and other problems we didn't know we had.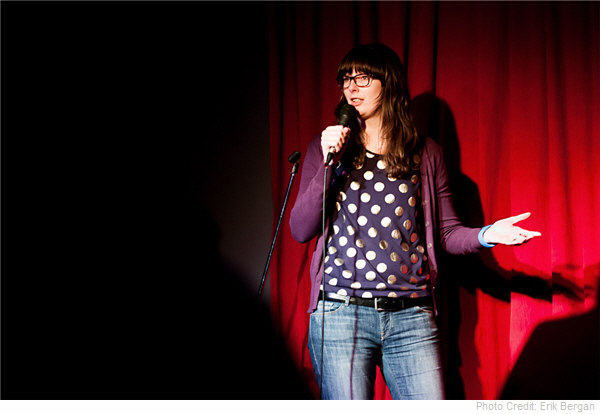 "This is intelligent and elegant comedy." Squirrel Comedy
"…highly likeable and extremely funny…" TalkFringe.com
"…a Midas touch with comic material." Black Sheep
Venue: The Den @ The Chippendale Hotel, 87-91 Abercrombie St, Chippendale NSW 2008
Dates: 13 & 14 September 2014
Tickets: $18 Full, $15 Concession, $15 when booking group tickets (6+)
Times: 7:00pm, 55 minutes
Bookings: www.sydneyfringe.com and at the door
Website: www.cjdelling.com

Elena Gabrielle and Grant
Busé – The Shuffle Show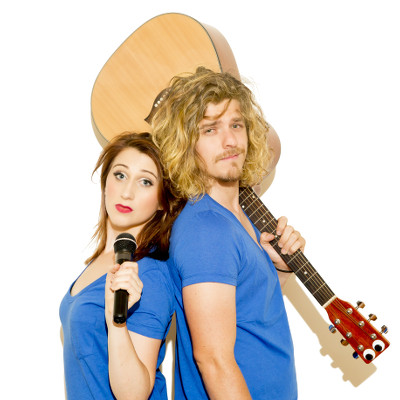 How about a comedy show with singing, dancing, acting and
more

?  Genius!

If you ever suspected that performing a comedy show was too easy, Elena Gabrielle and Grant Busé will prove you right. Not satisfied with entertaining you with comedy alone, they sing, they dance, they act, Grant plays guitar (I think the cool kids call it 'awesome chops' and 'shredding the axe').

One hour. One thousand songs. Sounds ridiculous? It is.

Taking on a medley of medleys, musical comedians Elena Gabrielle and Grant Busé present an epic musical adventure inspired by your favourite and most embarrassing iTunes playlists.

From The Beatles to Beyoncé, The Shuffle Show has something for everyone…except fans of One Direction…actually…okay, still no.

Venue: The Den @ The Chippendale Hotel, 87-91 Abercrombie St, Chippendale NSW 2008

Dates: 10, 11, 12, 13 September 2014

Tickets: $20 Full, $18 Concession

Times: 8:30pm, 55 minutes

Bookings: www.sydneyfringe.com and at the door

Website: www.facebook.com/theshuffleshow

… …