Adelaide Fringe
2015 Adelaide Fringe
.
The 2015 Adelaide Fringe Festival ran from 13th February  to 15th March 2015.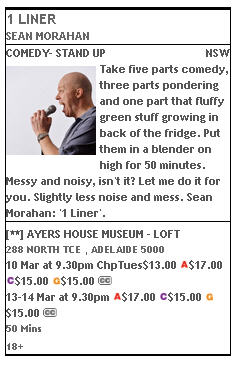 I performed my solo stand-up show 1 Liner at the 2015 Adelaide Fringe.
.
Performances:
Ayers House – The Loft, 288 North Terrace, Adelaide
Tuesday, 10th March, 2015 9.30 pm
Friday, 13th March, 2015  9.30 pm
Saturday, 14th March, 2015 9.30 pm
I also performed a spot in 'Edinburgh Comedy' at the Edinburgh Castle Hotel at 233 Currie St, Adelaide on Friday, 13th March, 2105 at 11.45 pm.
2014 Adelaide Fringe
I performed in the 2014 Adelaide Fringe Comedy, signing up for: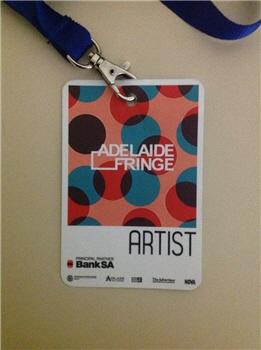 OMG Glenelg
Comedian of the Year Competition, Austral Hotel
Comedy Pub Crawl, Sugar Nightclub
The 2014 Adelaide Fringe ran from Friday, 14th February until Sunday, 16th March.